Nitrous Oxide
For over 50 years, Airgas has been meeting the Nitrous Oxide needs of customers with quality that exceeds USP specifications. As the world's need for nitrous oxide increases, Airgas helps streamline the purchase and delivery of a variety of grades of Nitrous Oxide and is shipped to customers in Asia, Europe, South America, and Australia.
As the largest Nitrous Oxide manufacturer in North America, Airgas provides premier quality and service to give peace of mind to our customers.
Nitrous oxide, commonly known as laughing gas, is a chemical compound with the formula N2O. It is a colorless, non-flammable, oxidizing gas, with a slightly sweet odor and taste.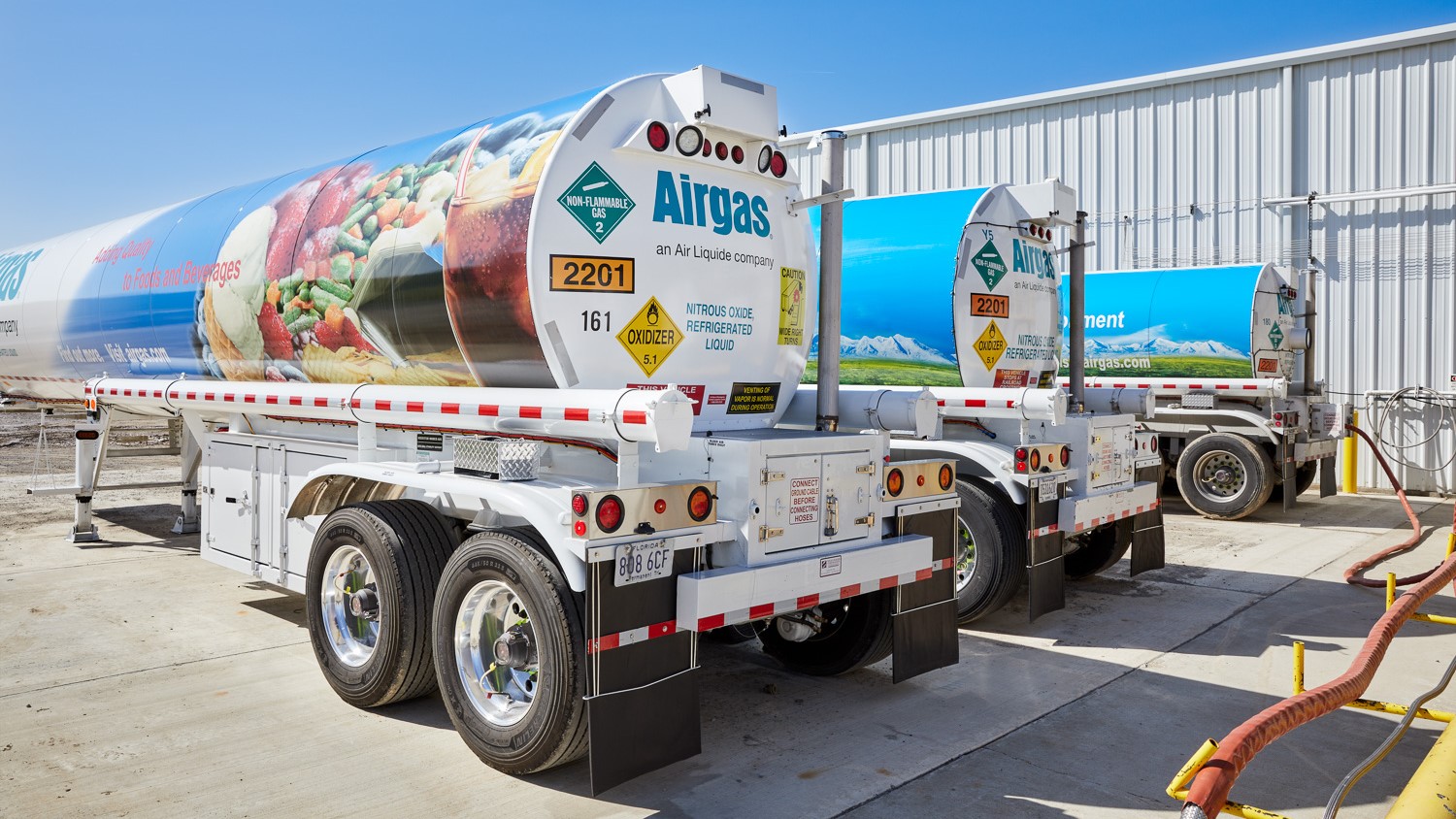 Nitrous Oxide Product Offerings
Airgas provides medical, food, industrial, and high-purity grades of nitrous oxide. We maintain the largest network of nitrous oxide manufacturing facilities in North America, with production in Maitland, Ontario, Canada, Yazoo City, Mississippi, and Tooele, Utah. Our supply chain expertise extends far beyond North America. Airgas ships nitrous oxide to all points of the globe using vacuum jacketed ISO containers.
Nitrous oxide is produced by Airgas for the medical market according to the United States FDA Good Manufacturing Practices and conforms to the testing and quality requirements of the U.S. Pharmacopeia (see chart). We also offer Nitrous Oxide with tighter specifications. Check out our technical library for more detailed information.
Airgas has the capabilities to deliver bulk nitrous oxide to locations nationwide. We also fill cylinder sizes from 6 to 60 lbs, Y cylinders containing 600 lbs and tube trailers that hold up to 25,000 lbs.
| | | | | |
| --- | --- | --- | --- | --- |
| Nitrous Oxide (N2O) | 99% | v/v | Liquid | Maximum |
| Carbon Monoxide (CO) | 10 ppm | v/v | Vapor | Maximum |
| Nitric Oxide (NO) | 1 ppm | v/v | Vapor | Maximum |
| Nitrogen Dioxide (NO2) | 1 ppm | v/v | Liquid | Maximum |
| Halogens (measures CI2) | 1 ppm | v/v | Vapor | Maximum |
| Carbon Dioxide (CO2) | 300 ppm | v/v | Vapor | Maximum |
| Ammonia (NH3) | 25ppm | v/v | Vapor | Maximum |
| Water (H20) | 150 mg/m3 | v/v | Vapor | Maximum |
Nitrous Oxide Applications
Airgas delivers nitrous oxide worldwide for several application uses, including:
Anesthetic and Analgesic
Propellant for food-grade aerosols
Refrigerant
Leak-detecting agent
Oxidizing Agent
Chemical reagent
Ingredient in fuel combinations
Semiconductor manufacturing
Internal combustion engine performance enhancements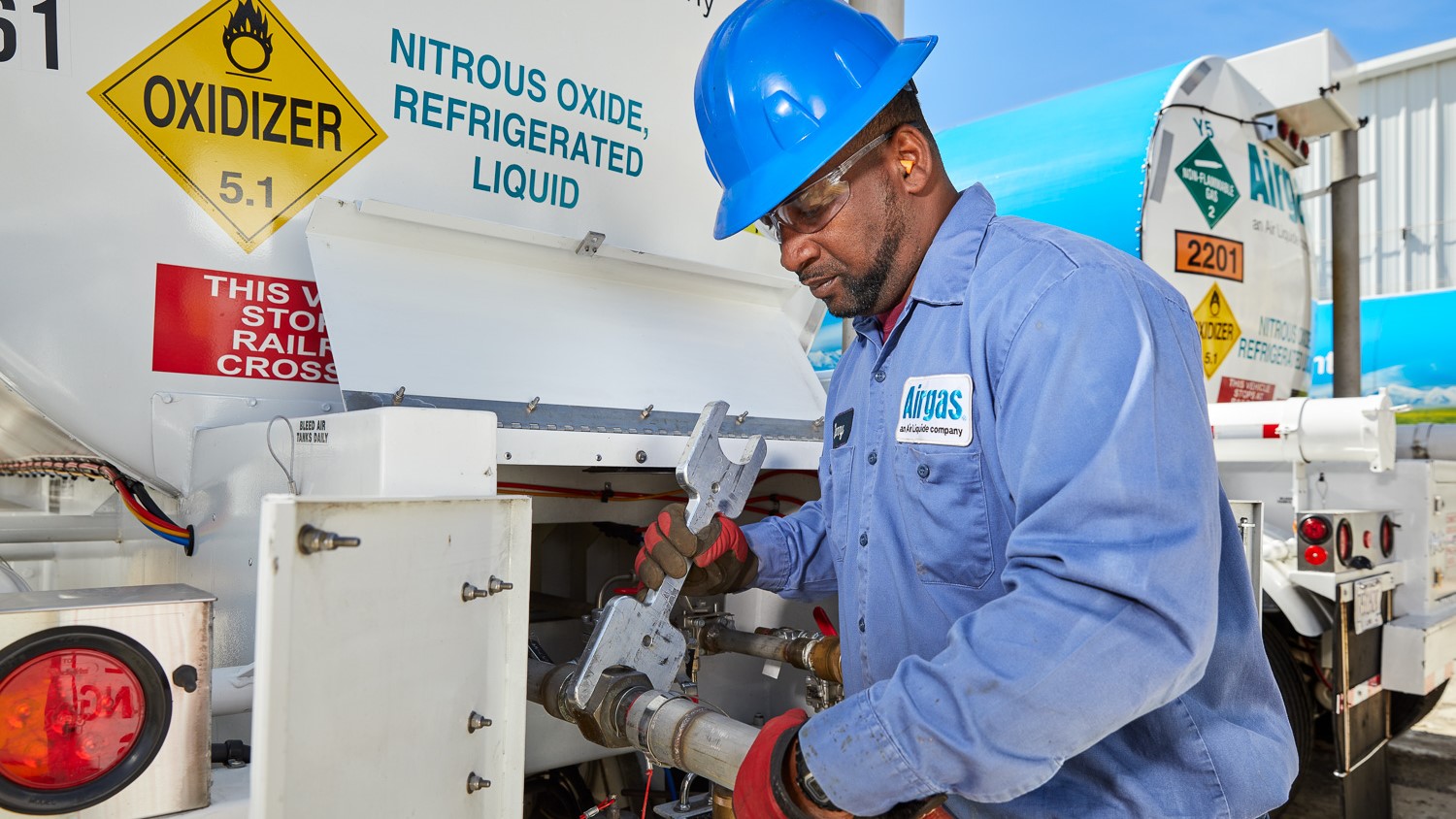 Nitrous Oxide Safety
Airgas' nationwide Emergency Response infrastructure is the largest response organization in our industry providing support anywhere in the country.
If you happen to experience a nitrous oxide related safety incident, we can offer assistance with providing our decades of knowledge in the industry.
Please contact us if you would like to discuss our capabilities in this area further.

Nitrous Oxide Technical Library
Over the years, we've developed a complete library of technical information about nitrous oxide. We hope you'll find these resources helpful and will contact us when you need assistance.